Honoring Achievements: Five Juniata Alumni Recognized With Awards
(Posted June 13, 2019)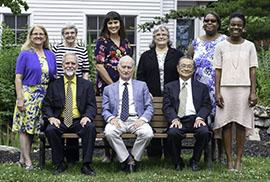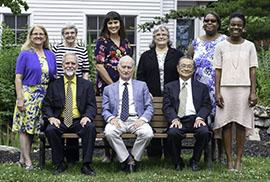 Huntingdon, Pa. – Five distinguished alumni were honored with awards as part of the 2019 Alumni Weekend festivities at Juniata College June 8, 2019. 
Dr. Heng F. Lim of Hershey, Pa., earned the College's Alumni Achievement Award. Ibada A. Wadud, from Brooklyn, N.Y., was awarded Juniata's Young Alumni Achievement Award. Robert W. Pierson of Philadelphia, Pa., received the William E. Swigart Alumni Humanitarian Award. Dr. Randy L. Kochel and Pamela Green Kochel, from Lancaster, Pa., were honored with the Harold B. Brumbaugh Alumni Service Award. 
A 1959 graduate of Juniata, Dr. Heng F. Lim, received the College's Alumni Achievement Award, which honors an alumnus/a who has distinguished him/herself over a period of years and who has achieved a pinnacle position in his/her chosen profession. 
Following his graduation from Juniata, Dr. Lim attended Temple University School of Medicine, completed an internship and a residency at Polyclinic Medical Center in Harrisburg, Pa., and completed a residency as chief medical resident at Geisinger Medical Center in Danville, Pa. He also fulfilled a cardiology fellowship at Hahnemann Medical College in Philadelphia, Pa., where he conducted research funded by the National Institutes of Health before also completing an additional clinical fellowship as chief cardiology fellow at Hahnemann. 
He has earned hospital appointments at Harrisburg Hospital, Harrisburg, Pa., Holy Spirit Hospital, Camp Hill, Pa., Community General Osteopathic Hospital, Harrisburg, Pa., Fulton County Medical Center, McConnellsburg, Pa., and Carlisle Hospital, Carlisle, Pa. Dr. Lim also served as a major in the United States Army Medical Corps, where he was chief of cardiology at Martin Army Hospital at Fort Benning, Ga., and a consultant in cardiology for the southeastern region of the Army Medical Corps. He received a United States Army Commendation Medal and Citation for Meritorious Service in 1970. 
While practicing, Dr. Lim has served as an instructor in cardiology at Hahnemann Medical College as well as a professor of medicine at the Pennsylvania State University's Hershey Medical College. He has also shared his knowledge in four national medical journals. 
Over the course of his career, Dr. Lim has been named a fellow of the American College of Physicians, a fellow of the American College of Cardiology, a fellow of the American College of Chest Physicians and a fellow of the Council of Clinical Cardiology of the American Heart Association. He is a member of the American Medical Association, the Pennsylvania Medical Society, the Dauphin County Medical Society, and the American Society of Nuclear Cardiology. The American Health Council, a global network of physicians and health scientists, named Dr. Lim one of America's "Best in Medicine."
"The most memorable experience I had at Juniata was the freshman chemistry course. To surmount the difficult and extremely challenging course material, I had to learn to use the 'survival' code: Persistence, Perseverance and Patience," says Dr. Lim. "Juniata had not always provided a direct answer to a student's question or need, but it had often provided an environment conducive to a student to be innovative and creative to resolve an important issue pertinent to his or her growth and development."
A 2007 graduate of Juniata, Ibada A. Wadud earned the College's Young Alumni Achievement Award, which honors an alumna/us not more than 15 years out from graduation who has distinguished him/herself in their chosen profession. 
After completing her bachelor's degree in global justice and human rights at Juniata, Wadud pursued further training as an artist-in-residence with the University of Ideas (UNIDEE). Funded through a grant awarded by the philanthropic arm of Italian menswear brand Ermenegildo Zegna, her residency afforded Wadud the opportunity to
Contact April Feagley at feaglea@juniata.edu or (814) 641-3131 for more information.