Four Juniata Alumni Earn Alumni Achievement Awards
(Posted June 20, 2018)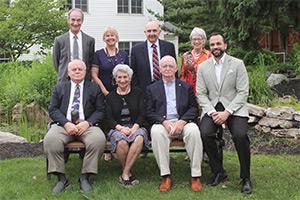 Photo by: Karis Cornelius '20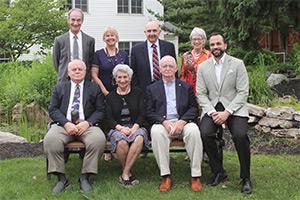 Photo by: Karis Cornelius '20
Huntingdon, Pa. -- As part of its 2018 Alumni Weekend festivities, Juniata College presented four awards to distinguished alumni on June 9, 2018.
Dr. Barry B. Moore from Camp Hill, Pa., earned the College's Alumni Achievement Award. Dr. Carl A. Kihm, from Louisville, Ky., was awarded Juniata's Young Alumni Achievement Award. Jean (Davies) Ewers from Pittsburgh, Pa., received the William E. Swigart Alumni Humanitarian Award. And, David G. Oliver from Middlesex, N.J., was honored with the Harold B. Brumbaugh Alumni Service Award.
Dr. Barry B. Moore, a 1963 graduate of Juniata, received the College's Alumni Achievement Award, which honors an alumnus/a who has distinguished him/herself over a period of years and who has achieved a pinnacle position in his/her chosen profession. After graduating from Juniata, Dr. Moore attended Temple University School of Medicine, where he was inducted into both the Alpha Omega Alpha Honor Society and the Babcock Surgical Society. He then completed a surgical internship at the Cincinnati General Hospital and fulfilled his residency in neurosurgery at the Mayo Clinic in Rochester, Minn.
After his work at the Mayo Clinic, Dr. Moore entered private practice in Harrisburg and, throughout his career of more than 40 years, was employed by Harrisburg Hospital, Holy Spirit Hospital, Carlisle Hospital, and the Milton S. Hershey Medical Center. He was chairman of the departments of neurosurgery at two of those organizations and also served as president of the medical staff at Holy Spirit.
He recently retired from practicing neurosurgery at PinnacleHealth Neurosurgery and Neuroscience Institute, where he specialized in brain surgeries and spine surgery. During this time, he also provided coverage for neurosurgical emergencies at the Harrisburg Hospital Emergency Department and the Intensive Care Unit for 24 hours a day, 365 days a year.
Over the course of his career, Dr. Moore became a member of the Dauphin County Medical Society, Pennsylvania Medical Society, American Medical Association, Mid-Atlantic Neurological Society, Congress of Neurological Surgeons, American Association of Neurological Surgeons and American Association of Laser Surgeons. He is also a Fellow in the American College of Surgeons.
"On a rainy day in October I drove to Baltimore to see Juniata play Johns Hopkins in football," says Tom Congersky, a member of the Juniata Class of 1963 who nominated Dr. Moore for the Alumni Achievement Award. "There standing along the fence, watching the game in a downpour, was Barry. He once told me he studied medicine at the Mayo Clinic, but the only institution he contributed to and supports is Juniata. Now, since his retirement, he is able to attend many games and activities that work prevented him from doing earlier."
At the Alumni Awards Assembly, Dr. Moore shared further his belief in Juniata.
"Since I left Juniata 55 years ago, there have been a lot of physical changes on campus—a lot of new buildings and facilities," Dr. Moore says. "However, the one thing thing that never changes at Juniata is the way in which they prepare their students for not only their chosen profession in life, but for life's challenges after graduation."
Originally from Middletown, Pa., Dr. Carl A. Kihm, a 2005 graduate of Juniata, earned the College's Young Alumni Achievement Award, which honors an alumna/us not more than 15 years out from graduation who has distinguished his/herself in their chosen profession. After completing his bachelor's degree at Juniata, Kihm earned his doctorate in podiatric medicine at Temple University School of Podiatric Medicine, completed a residency at DeKalb Medical Center and went into private practice with Village Podiatry Group in Atlanta, Ga. He is now an associate at University Foot & Ankle in Louisville, Ky., and a faculty member at The Podiatry Institute in Decatur, Ga. He is also a fellow at the
Contact April Feagley at feaglea@juniata.edu or (814) 641-3131 for more information.