Four Juniata Graduates Receive Alumni Achievement Awards
(Posted June 5, 2017)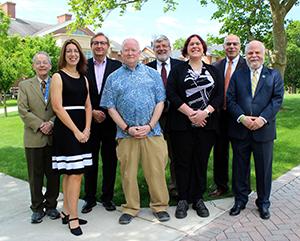 Photo by Amber Boring '18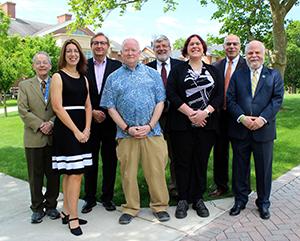 Photo by Amber Boring '18
            HUNTINGDON, Pa. -- Juniata College, as part of its "Alumni Weekend 2017," presented four alumni-related awards Saturday, June 3, during Alumni Assembly.
           Howard Nathan, from Devon, Pa., president and chief executive officer of Gift of Life Donor Program in Philadelphia, Pa., was awarded the Alumni Achievement Award; Dr. Michael Johnston, from Kapaa, Hawaii, an anesthesiologist at Kauai Medical Clinic/Wilcox Medical Center, received the William E. Swigart Jr. Alumni Humanitarian Award; Karen Beck, from Woodbury, N.J., controller at Logan Capital Management in Ardmore, Pa., received the Harold B. Brumbaugh Alumni Service Award; and Elena Long, from Dover, N.H., an assistant professor at the University of New Hampshire, received the Young Alumni Achievement Award.
           Howard Nathan, a native of Johnstown, Pa. and a 1975 Juniata graduate, has been president and chief executive officer of Gift of Life Donor Program (formally Delaware Valley Transplant Program) since 1984. The program is the largest, and one of the oldest of the 58 organ procurement organizations in the United States. As CEO, he oversees all clinical and administrative duties for the organization which provides all vital organs and tissues for 15 transplant centers and employs more than 200 professionals. He manages the $75 million budget of the organization, which has coordinated more than 42,000 organs for transplantation and hundreds of thousands of tissue transplants since 1974.  Gift of Life has 41 organ-specific programs and 131 donor hospitals in its region.
               Nathan was elected to the board of directors for the United Network for Organ Sharing (UNOS) for three terms and served as treasurer. He also is a past president of the Association of Organ Procurement Organizations (AOPO), Donate Life America and the International Society for Organ Donation and Procurement (ISODP).  He is a member of the board of directors for the Pennsylvania Governor's Organ Donation Advisory Committee, the National Disease Research Interchange (NDRI), LifeLogics Inc. and the Musculoskeletal Transplant Foundation Governing Board and Donation Board of Trustees.
                He began his career in organ donation in 1978 as a transplant coordinator for Delaware Valley Transplant Program. He worked before that as a research specialist at the Wistar Institute from 1975 to 1977. He began studying public health as a graduate student in 1978 at the University of Pittsburgh.
                Nathan is also the president of the Transplant Foundation; the founder and president of the Gift of Life Institute, an international research and training center for donation and transplantation professionals established in 2004; and the president of the Gift of Life Family House.  Nathan is considered a leading authority on organ and tissue donation, and is a regular  presenter at national and international organ and tissue procurement and transplantation conferences and has published more than 350 scientific papers and abstracts. He also traveled to 17 countries including Argentina, Australia, Brazil, China, Germany, India, Japan, the Republic of Korea and Saudi Arabia to promote best practices in organ donation and transplantation. 
           Nathan is frequently consulted by members of the media and has appeared on national TV news and talk shows. He has received numerous outstanding achievement awards from national organizations.
           Natha
Contact April Feagley at feaglea@juniata.edu or (814) 641-3131 for more information.