Student life at Juniata College is designed to provide students with a co-curricular experience that develops the skills, knowledge, and values necessary to lead a fulfilling life of service and ethical leadership in the global community. Juniata's supporters are foundational in creating new and innovative programming to enhance current and future student experiences.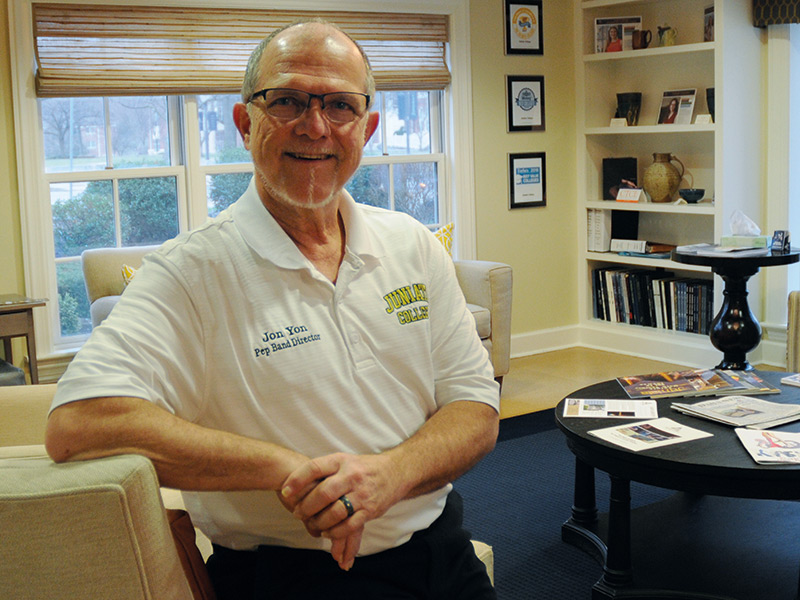 Jon Yon, director of the Juniata Pep Band. Photo: Candice Hersh
Pep Band
The spirit of the blue and gold has a new sound at Juniata, with a student Pep Band to boost energy at campus events.
A gift from Perry Habecker '76 and Gail Morgan Habecker '76 founded the Pep Band, led by Director Jon Yon.
"The Pep Band is a musical activity that brings students together and serves as a stress reliever. We were surprised by the magnitude of student interest in the Pep Band" says Perry. "We are grateful for a leader like Jon Yon, who has great rapport with students. Things have come a long way since we graduated."
Yon shares the enthusiasm for the addition of the Pep Band.
"Pep Band embodies the pure, uninhibited musical expression of fun and excitement," Yon says. "It's the sheer joy of playing music together, the thrill of cheering unabashedly for our athletics teams, and the unique feeling of excitement in any venue when the band is having fun with our music that makes this such a wonderful addition to the traditions of Juniata."
Through the Pep Band, musicians have the opportunity to continue playing and enjoying music in college, spending time with like-minded peers, and gaining leadership skills through the student-led program.
Tanisha Grimsley '23 enjoyed playing in her high school's pep band and was thrilled when it was announced that a pep band was being formed at Juniata.
"I signed up right away," Tanisha says. "In high school, playing at the football games was one of the best times to enjoy music-making with others in a less formal manner. This led to long-lasting friendships and bonds between us, and I hope to make the same kinds of connections here at Juniata."
While connected through their love of music, Pep Band musicians find opportunities for personal growth as they work together to energize campus events.
"As someone who doesn't always express emotions outwardly, I enjoy being free to cheer on our student-athletes and encourage Juniata fans to do so as well. The members of the Pep Band have definitely helped me to break out of my — sometimes — quiet shell, and I have fun with them."
Juniata's Pep Band will perform at athletics competitions, campus events, and will take their high-energy performances into the wider Huntingdon community to be a part of parades and other local traditions.
Mock Trial
Juniata's Mock Trial team has established a sterling reputation as a nationally-ranked competitor in its first three seasons. The BELIEVE Campaign has helped to turbo-charge the team's success as a mock trial dynamo.
"The support of trustees, alumni, and friends in the BELIEVE campaign was instrumental in helping our Mock Trial team achieve a national ranking in each of our three years," says emeritus trustee, former Juniata board chair, and the team's coach, Attorney David Andrews '74, who brings years of experience coaching both high school and collegiate mock trial teams. "Gifts to support the team have made it possible for our team to travel to some of the top mock trial tournaments in the country. For example, the financial support enabled our team to go to the University of California at Berkeley Tournament, one of the most prestigious Mock Trial tournaments, where we finished in the top five."
Mock Trial involves a simulated courtroom trial, with students serving in the roles of advocates and witnesses. Real-life attorneys and judges preside over the competition. The trial is based on imaginary facts and parties, with each team arguing both sides of the case in trials during the tournament. Team members are challenged to hone their ability to adapt, problem-solve, and think on their feet.
JoAnn Bowman '75 and Bruce Moyer '74 are among the Juniata donors who have eagerly supported the Mock Trial experience.
"The quality of the competition and the students participating in Mock Trial have been exceptional. It is a rigorous intellectual activity that builds communication skills and the ability to reason and persuade. These are lifelong skills regardless of whether one pursues the practice of law," says Bruce, an attorney and current member of Juniata's board of trustees.
"Juniata's reputation for Mock Trial success has inspired great students to attend Juniata," says JoAnn. "We've attended several Mock Trial competitions and have been really impressed with their performance."
Nancy Neuman, donor and member of the Juniata College Mock Trial Advisory Board, expressed her support for the program.
"We are happy to support Juniata's nationally-ranked Mock Trial team. Our family foundation supports grassroot groups who exhibit the potential to become champions," Nancy says. "We encourage the development of confidence, hard work, and dedication, that will serve recipients well throughout their lives."
While some team members aspire to careers in law, Juniata's Mock Trial competitors represent a wide variety of Programs of Emphasis (POEs), from business to environmental studies.
"Juniata Mock Trial has fostered my success in academics, professional presentation, and advocacy. The analytical and public speaking skills that come with being a member of the team are unparalleled," says Dan Cummins '24. "The generous support of donors empowers us to pursue our needs at Juniata and beyond."
Described by a representative of the American Mock Trial Association as the "team that is shocking the mock trial community," opposing teams from academic powerhouses like Carnegie Mellon and Johns Hopkins have gone from asking, "Who is Juniata College?" to recognizing the team as a formidable opponent.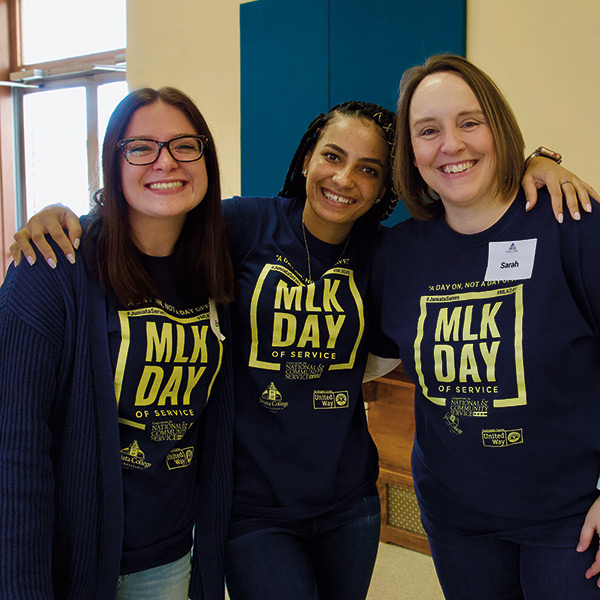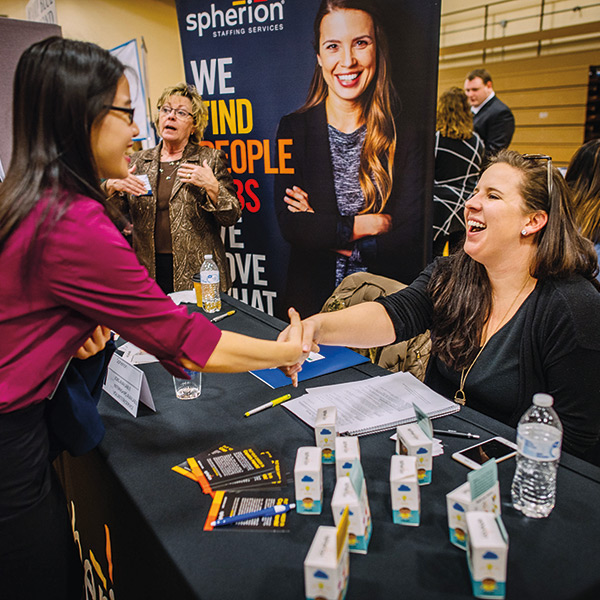 Left: Community-engaged learning opportunities, such as projects coordinated as part of Juniata's Martin Luther King Jr. National Day of Service observance, build bridges between Juniata and Huntingdon. | Right: Events like Juniata's Career Day connect students with professional development and experiential learning opportunities. Photos: Sarah Rohrer '20; Sarah Anne Wharton '06
Community-Engaged Fellowship
Geoff Clarke '75 and Cindy Gilbert Clarke '76 have made Huntingdon their home for the past 45 years, choosing to live and work in the community they first discovered when they attended Juniata.
To further their vision of drawing Huntingdon and Juniata's campus community even closer, the Clarkes founded the Geoff '75 and Cindy '76 Clarke Fellowship Endowment, enhancing student employment experiences through the Office of Community Engagement. Through the Office of Community Engagement, students are connected with employment, internship, and volunteer opportunities within local organizations.
"We felt a need to create opportunities for this connection to be made," says Geoff. "We're trying to facilitate another connection between the College and the community to foster positive relationships. The town is a great asset to the College, and the College is a great asset to the town."
The endowment will provide the resources needed to compensate student employment.
"Many of the organizations in Huntingdon can certainly use the help, and anything that can help businesses thrive in the community is a benefit," Cindy says. "This is a great opportunity to give back to Juniata and to Huntingdon, both of which fostered my development."
Kei Takahashi '24 learned about the fellowship as he was looking for ways to learn more about Huntingdon.
"As an international student, I chose Juniata because I wanted to see 'real American society,' which is different from what I could learn from television or the internet," says Kei. "Through community engagement, I can learn a lot of new perspectives and immerse myself in the culture and look for places where I can show who I am in this community."
Kei worked on campus in the Office of Community Engagement, aided faculty in preparing community-engaged learning courses, and spent time partnering with local organizations on community development projects. Whether working on community gardens in nearby Mount Union or repairing bocce ball courts used by local Special Olympics teams, Kei says he feels privileged to have learned as much as he has through community engagement.
By building bridges between Juniata and Huntingdon, new partnerships with local organizations can be identified and developed.
"We're trying to pay it forward," says Geoff. "This is an opportunity to help someone get off on the right foot and develop skills that wouldn't have been developed any other way."
Career Development
Juniata is committed to preparing students for a life of success, ensuring that they are ready to succeed in the workplace by the time they complete their Juniata experience.
The Holsinger Career Development and Opportunity Fund created by Steve '76 and Wendie Holsinger will support the work to reimagine and improve career development at Juniata within the Office of Career Development and Alumni Engagement. Steve is a current member of Juniata's board of trustees.
"The combination of career development and alumni engagement is important for our students," said David Meadows '98, executive director of Career Development & Alumni Engagement. "There is power in our alumni network, and our goal is to integrate alumni in helping students to become career ready."
Juniata's Office of Career Development and Alumni Engagement is committed to providing inclusive career and professional development opportunities and experiential learning to students pursuing lifelong career success and satisfaction in a global marketplace.
"It's important to me that Juniata offers career development services because Juniata is preparing students for both life and a career," says Andrew Cerroni '22. "It's not always as simple as building a resume and applying to jobs on LinkedIn. There's a lot of nuanced obstacles to navigate when trying to start a career or find a job or internship. Having someone there to guide you through that process is essential."
Alumni are often distinguished in their respective workplaces. They credit this to learning how to think at Juniata rather than learning what to think.
"What I hear from young alumni going out into the workplace or graduate school is that they feel very well prepared, not only in terms of experiences, but in terms of their ability to think, learn, problem-solve, and collaborate with other folks," David says.
Through the Holsinger Career Development and Opportunity Fund, career readiness will be built through awareness, advising, and high-impact experiential learning opportunities. Students will have augmented connections to facilitate mentoring and networking by tapping into Juniata's expansive alumni network. Another facet of the fund will be to explore possibilities for extending digital career services to alumni.
"Juniata is in a really unique position because, despite its size, it has alumni across the country in many different fields. The alumni want to build relationships with current students," Andrew says. "These relationships can lead to mentorship or internship opportunities. The Juniata network has been a truly invaluable part of my Juniata experience."
This initiative will further the mission of the Office of Career Development and Alumni Engagement as they empower students to develop an understanding of career paths, become conversant in their unique skill sets, and become proficient in job, internship, and graduate school search and application tools.