Juniata's student-athletes strive for excellence in the classroom and competition and often find their leadership, problem-solving, and change-making skills are developed and refined through sports.
"The Division III program we are in allows Juniata the unbelievably unique opportunity to have a much more impactful student-athlete relationship," says Christopher Thompson '87, a Juniata trustee who also serves on the board of First Tee of Greater Philadelphia, an organization committed to building inner strength, self-confidence, and resilience in children through the game of golf. "Most of us are not going to become professional athletes. We use the studentathlete experience to shape us to be better people as we work, collaborate, and find success."
Our facilities are an investment in our student-athletes, their development, and their success.
Christopher provided the key gift to reinstate Juniata's mens' and women's golf programs.
The availability of premier facilities on campus, supported through the generosity of donors, has made a considerable impact throughout the duration of the BELIEVE campaign.
"Our commitment to providing the best training and competitive environments we can is essential to the student-athlete experience, our recruiting efforts, and to developing athletic teams and programs that reflect a level of excellence consistent with that of Juniata and a Juniata education," says Greg Curley, athletic director at Juniata.
Winton Hill Athletics Complex, completed in fall 2016, with its artificial turf soccer field and stadium, six tennis courts, locker rooms, offices, athletics training room, enclosed press box, and stadium lighting, is now home to 100 varsity athletes and is the finest competition facility within the conference.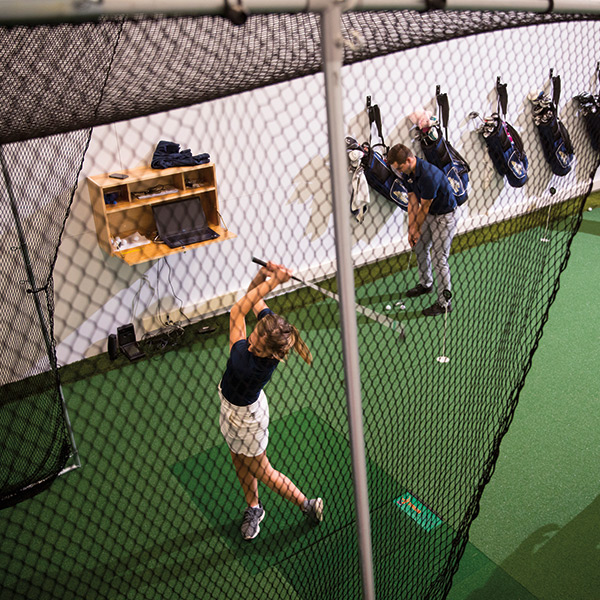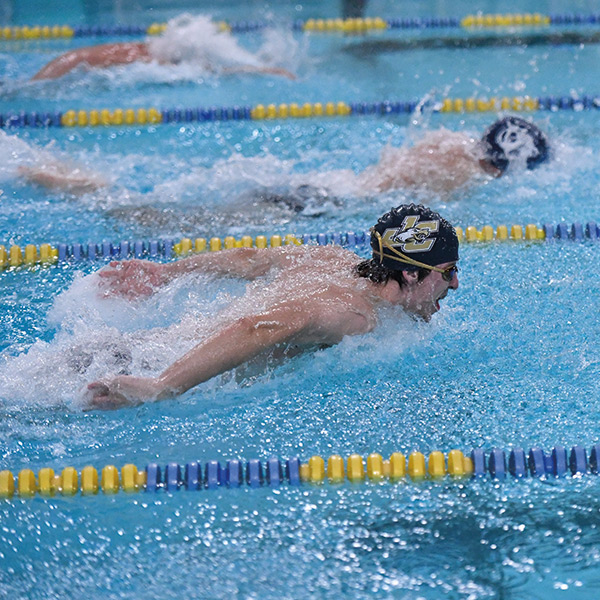 Left: The creation of the Cook Family Golf Performance Center was made possible through gifts given to support Juniata Athletics. Photo: Jason Jones | Right: Men's swimming was one of the sports reinstated as a varsity sport during the BELIEVE Campaign. Photo: J.D. Cavrich
The vision for Winton Hill took form through gifts made by Henry '57 and Joanie Gibbel, for whom the soccer field and stadium are named; Karl Shreiner '61 and Pat Janusz Shreiner '62, for whom the plaza is named; the late Sam '54 and Martha Brumbaugh, for whom one of the tennis courts has been named; and Daniel '56 and Karen Raffensperger, for whom one of the tennis courts have been named.
Kennedy Sports and Recreation Center has also undergone multiple renovations including the replacement of the gym floor in Memorial Gymnasium, enhancements to the Brumbaugh Fitness Center, and the addition of the Cook Family Golf Performance Center. At Knox Stadium, a new scoreboard was installed. All of this was made possible through the passion and support of Juniata donors.
"The generosity and support of our donors are critical to our efforts to provide a first-class student-athlete experience, compete for championships, and meet the expectations of our current and prospective student-athletes," Greg says. "Our facilities are an investment in our student-athletes, their development, and their success."
Outside of facility improvements, the department has added or reinstated several varsity sports including men's and women's lacrosse, men's and women's golf, and men's swimming, bringing the number of varsity intercollegiate sports at Juniata to 24. This, in combination with a variety of club, intramural, and individual activities, means students can enjoy the thrill of competition, promote wellness, and build relationships with their peers.
"I think the more sports we, as a college, identify as a good fit for us, the better we are," says Thompson.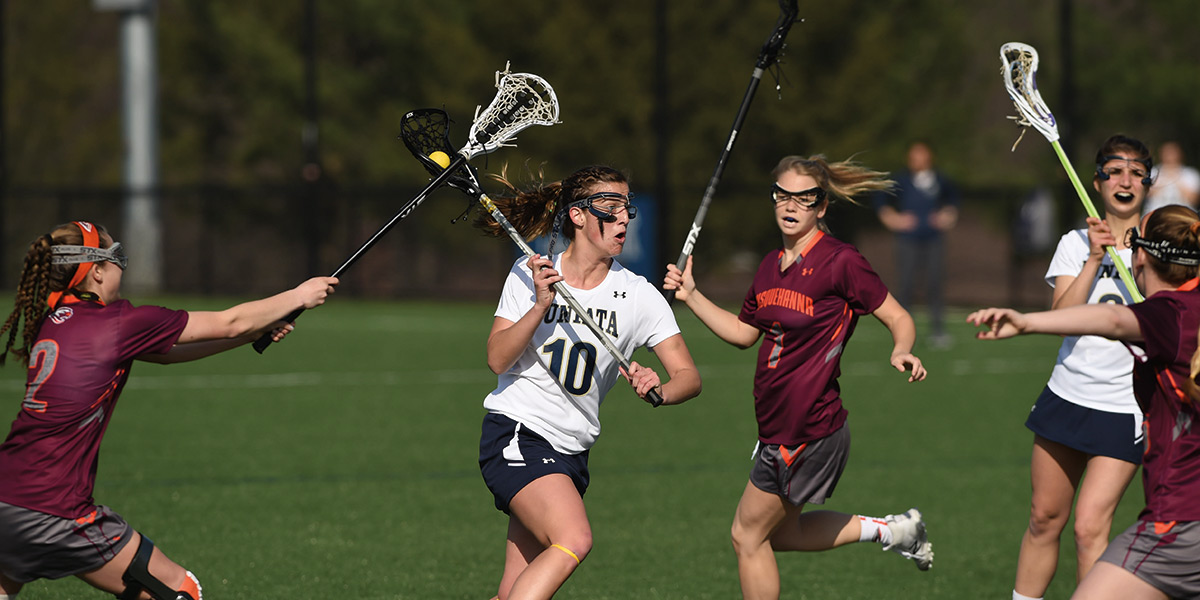 Women's lacrosse was added as a varsity sport, along with men's lacrosse, men's and women's golf, and men's swimming bringing the number of varsity intercollegiate sports at Juniata to 24. Photo: J.D. Cavrich
Sofia Amoroso '23 wanted to attend a small, liberal arts college where she could explore her academic interests and also play golf.
"I had put a lot of work into golf throughout high school, and I wanted the opportunity to play golf while in college," Amoroso says. "Meeting some of the players on the team when I came to visit, I loved the relationships and how close everyone was. I was trying to find a school that fit all of my interests, and Juniata did."
The student-athlete experience at Juniata promotes bonds that are inclusive.
"It wasn't like a larger school where athletes go to one corner of the world and non-athletes go to another," Thompson says. "The experience made you feel like you were a part of a community where differences are valued and appreciated. I couldn't be more proud and happy to be involved in what's taking place."
That sense of community attracts like-minded prospective students who are hoping to continue their athletic careers in college.
"Those who are committed to growing the athletic department at Juniata in all different sports give students with an interest in athletics the chance to play, to grow as a person, and to build bonds and friendships," says Amoroso. "It was a huge part of why I chose to come to Juniata."