When do dining services locations open for academic year use?
While students may access meals before the start of the semester through participation in campus opening activities, meal plan access begins with dinner on August 22 and continues through the conclusion of finals on December 14.
Baker opens for semester meals at 5 PM on August 22.
Baker - daily from 7:15 AM to 11 PM

Monday - Friday
Breakfast (full)
~ 7:15am – 10:00am
Breakfast (continental)
~ 10:00am – 11:00am
Lunch
~ 11:00am – 1:30pm
Light Lunch
~ 1:30pm – 5:00pm
Dinner
~ 5:00pm – 8:00pm
Late Night
~ 8:00pm – 11:00pm
Saturday and Sunday
Brunch
~ 10:20am – 1:30pm
Light Lunch
~ 1:30pm – 5:00pm
Dinner
~ 5:00pm – 8:00pm
Late night
~ 8:00pm – 11:00pm
Jitters opens at 7:30am on August 23rd

Standard hours:
Monday through Thursday
~ 7:30am – 8:00pm
Friday
~ 7:30am – 2:00pm
Closed Saturday & Sunday
Mocha Run opens at 10:30am on August 23rd

Standard hours:
Monday through Friday
~ 10:30am – 4:00pm
On the Go! Cafe opens at 7:30am on August 23rd

Standard hours:
Monday through Thursday
~ 7:30am – 3:00pm
Friday
~ 7:30am – 2:00pm
Closed Saturday & Sunday
365 Market in the Beeghly Library will be available when the Library is open. Construction will be completed soon.
What improvements are forthcoming in Baker Refectory and retail operations?
We are excited to be moving forward with plans to improve the quality and experience of dining services at Juniata. Upgrades in dining operations are ongoing, but the current plan includes the following developments:
On the Go! Café opens with the start of classes in a refreshed and updated location in Brumbaugh Academic Center, serving breakfast and lunch options, hot soups, snacks and beverages.
Jitters will open with the semester in the VLB location familiar to students, faculty and staff, and then in mid-September, an expanded operation will open across the Atrium and provide for an expanded menu that includes hot sandwiches and other MTO selections.
In Baker, students will find expanded options that continue to grow. During expanded hours of operation and access, students will find that as the year begins the main floor service stations reflect additional and evolving areas that provide access to:
Salad Bar, including Mediterranean bar features healthy greens and fresh fixings, specialty grains and pre-made salads
Fresh Stock provides homemade soups
Bakery
Deli
V2 line offering a variety of vegetarian and vegan selections
Allergy friendly selections on the main floor
Wall of cereal selections
Spoon and Fork provides comfort foods and house made standards
Grill providing burgers, chicken, fries and favorites
Oven and Pastabilities showcases pizza, pasta and variety of oven baked items
Mongolian grill featuring flavors of the world and make-your-own stir fry
Waffle station
Make your own smoothies during breakfast and lunch
Fruit and Yogurt Bar
On the second floor in the Eagles Landing space, students will find:
Cinco Cantina serving fresh-made tacos, fajitas, burritos
A second grill station
Pre-made sandwiches and convenient to-go items
Between fall and spring semesters, the main floor of Baker Refectory and to an even greater extent the second floor service areas, will undergo renovation that includes updates to environment and aesthetics, service areas and operational flow. Student input in the final design will be solicited through conversations with student government, RAs, tour guides and other leadership groups, as well as through additional feedback mechanisms for all students. Design decisions and construction plans must be complete by Fall Break, so look for opportunities to contribute to the conversation and see your input reflected in the outcome.
Mocha Run on the second floor of Ellis Hall will proudly offer Standing Stone Coffee and other retail items. Mocha run opens August 23rd at 10:30am
365 Market in the Beeghly Library will provide grab and go items, including fresh made coffee and beverages during all library hours. Opening TBD.
What options are available on campus for students with food allergies or sensitivities?
Dining Services is committed to assisting students with food allergies and sensitivities to make choices that align with their personal needs and limitations. Students will find allergy-friendly options in Baker. A series of stations (located next to the deli and extending through the V2 vegan/vegetarian service stations on the west wall) contain gluten-free and allergy friendly selections.
Throughout Baker, in Jitters and On the Go! Café retail locations, and at catered events, allergens are indicated through labeling and signage: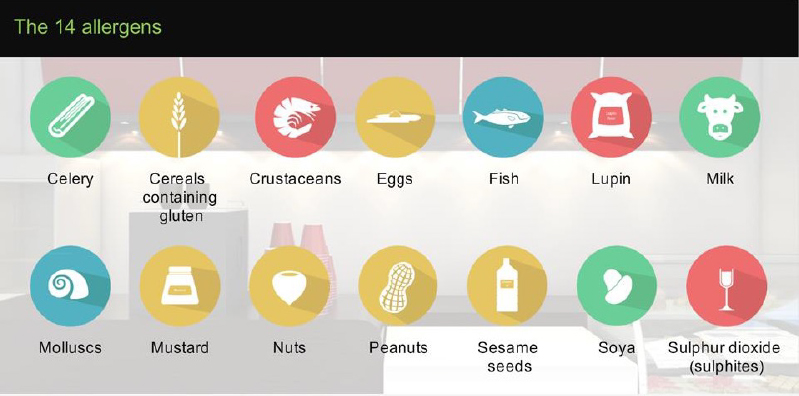 Students are able to access menus, and develop informed choices through information available on the FoodU app (available in the app store for mobile devices) and through the internet. Parkhurst's Allergy Program is complemented by our NetNutrition program that allows students, faculty and administrators to view nutritional information in a variety of devices. Information is available by desktop Internet browser, mobile site, and via a tablet. The nutritional information can be accessed by a simple menu item or by combining menu items for a meal's total nutritional value. Additionally, the program has the powerful capacity to filter one or multiple allergens across all service areas. https://netnutrition.cbord.com/nn-prod/7000#
Finally, students are invited to meet with Dining Services chefs and staff on August 23 at 8 PM in Baker. Participants will learn about allergy-friendly options and food preparation standards, and discuss strategies diners may use to make safe and healthy selections. Those attending will also have an opportunity to share individual needs and provide feedback and suggestions.
May I use my meal plan for a guest meal?
No, but you can use your DCB Dollars to purchase a guest meal.
My schedule doesn't allow me time to stay and eat in Baker. Can I get food to go?
Some students find days packed with back-to-back commitments, and it's impossible to find the time to stay and eat in Baker – but meals are still available to you. Take Baker with you three ways:
Coming Soon: Order an online meal-to-go using Catertrax and it will be prepared for your no wait pickup at Baker, Jitters or On the Go! Café during hours of operation. Instructions for signing up for Catertrax and how to order are coming soon!
Swing by Baker or Eagle's Landing and quickly choose from grab-and-go options prepared in advance.
Purchase a clamshell when you swipe into Baker, fill it with selections from any of the service stations, and take your meal with you. Return the clamshell to any dining service location and it will be sanitized and returned to service; in return you'll get a token that you can use to get another clamshell on your next take-out visit.
I have a suggestion or feedback to share about my experience with Dining Services.
Help us serve you better. Share your feedback with us in a number of ways:
Share your feedback with any of our chefs or managers in person. We work out of offices on the first floor just outside of Baker Refectory and more often we can be found interacting with you in any of our operations. Introduce yourself to Tony, Chef Lisa, Chef Morgan, or Brett.
Use the feedback function in the FoodU app
Email us at parkhurst@juniata.edu
Fill out a comment card at entrance of each location
On a twice monthly basis, Culinary Council meets to discuss dining services and provide guidance that help improve student experiences, and address opportunities to enhance operations and practices. All students may join the committee; contact Lorri Shideler at shidell@juniata.edu for more information about meeting dates and times.
Tell me more about the FoodU app and the information it provides.
Satisfy your APPetite with the FoodU dining app from Parkhurst Dining. With What's New, you'll find a fresh feed of the latest info on your favorite dining spots including events, deals, and notes from your chefs! Check out What's Cooking for daily menus and hours of operation by each and every location on campus. You study hard all day, give your brain a rest! FoodU makes it easier to think with your stomach. Download the FoodU app to your mobile device in the Apple iTunes or Android store.
How does Dining Services reflect Juniata's commitment to environmental sustainability?
Dining Services supports a number of initiatives that reflect Juniata's commitment to environmental sustainability and a reduced environmental footprint:
Efforts to reduce food waste in preparation, service and consumption are ongoing. This includes best practice around food use and kitchen practices, the choice to operate without trays and through mindful portioning, re-usable service items such as china plates and real silverware in applications as possible, and educational efforts to help diners understand and enjoy meals as well as strategies that conserve resources.
Dining services partners with local producers to support farmers that practice sustainable agriculture, and to reduce resources require for the transport of food.
Sourcing of food includes support for operations that favor organic practices and the reduction or elimination of artificial hormones and convenience pesticides and herbicides. These choices are important and valuable, and while they may incrementally increase overall food cost, they contribute substantially to the quality and health represented in the choices available to diners.
Providing re-usable to-go containers for students to purchase, and collecting those containers at all retail locations so that they can be sanitized and returned to service. Every re-usable container eliminates the momentary use of a disposable service item, and the addition of those discarded containers to our waste stream. Information about some of our production partners who represent this commitment to local, sustainable and organic agriculture can be found here: https://www.tog.coop/.