The Theatre POE
Juniata's Theatre POE, offers a holistic preparation for theatre artists in the larger context of Juniata's liberal arts environment. Students will experience broad based immersion in technical theatre skills, movement training, theatre history, studio acting courses and productions that focus on classical, modern and contemporary plays. Unlike most university theatre departments with a large number of professors, our program has a small, permanent faculty of two, which is supplemented and enhanced by training through guest directors and other outside professionals, who are dedicated to in-depth training for our students in various skills over the course of four years. Stability and diversity characterize our program. Theatre students at Juniata graduate empowered with the knowledge, skills and connections to work in theatre and the performing arts as a professional in the industry. Our program offers opportunities for careers in theatre but also embraces a life long love of Theatre and its integration into a well-lived life.
Listen. Risk. Hope. Nurture.
Theatre is a collaborative endeavor that cultivates empathy. This department upholds the idea that this can only happen when all people are treated equally, with respect and dignity, in an environment free from hostility and harassment. In our classrooms, production facilities, and work places we value students and artists of all abilities, races, ethnicities, genders, sexualities, ages, beliefs, and other expressions of identity. We encourage a diversity of ideas and points of view.
Violation of these core values will not be tolerated.
If you are willing to listen, to risk, to hope, and to nurture all people:
You are welcome here.
2017-2018 Season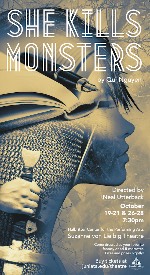 Directed by Qui Nguyen
Performances: October 19, 20, 21, 26, 27, 28 at 7:30pm
Suzanne von Lieibig Theatre
Part dungeons. Part dragons. Part pizzapolooza cosplay '90s dance party. A comedic romp into the world of fantasy role-playing games, She Kills Monsters tells the story of Agnes Evans as she leaves her childhood home in Ohio following the death of her teenage sister, Tilly. When Agnes finds Tilly's Dungeons & Dragons notebook, however, she stumbles into a journey of discovery and action-packed adventure in the imaginary world that was Tilly's refuge. In this high-octane dramatic comedy laden with homicidal fairies, nasty ogres, and 90s pop culture, acclaimed young playwright Qui Nguyen offers a heart-pounding homage to the geek and warrior within us all.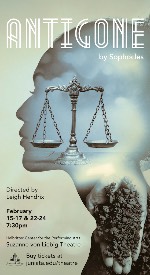 Directed by Leigh Hendrix

Performances: February 15, 16, 17, 22, 23, 24 at 7:30pm Suzanne von Lieibig Theatre

Sophocles's first play, first staged in the fifth century B.C., stands as a timely exploration of the conflict between those who affirm the individual's human rights and those who work to protect the state's security. After the war, the daughter of Oedipus, learns that her brothers have killed each other, having been forced onto opposing sides of the battle. When Creon, king of Thebes, grants burial to one but not the "treacherous" other, Antigone defies his order, believing it her duty to bury all of her close kin.

Performances: April 18 and 19 at 7:30pm Suzanne von Lieibig Theatre Join the Theatre Arts POE seniors for their culminating signature work.