2018 Liberal Arts Symposium
The 2018 Liberal Arts Symposium will take place on Thursday, April 19, 2018. Students may submit abstracts between February 12 and March 12, 2018. This year there will be no separate "Notice of Intent"; you only need to submit your information once.
Visit juniataLAS.info to submit an abstract, view the symposium schedule, and more
Every spring semester, Juniata students and faculty retreat from the classroom to take part in the Liberal Arts Symposium (LAS). LAS offers the entire campus an opportunity to present research that students and professors have worked on throughout the year.
Whether students are taking part in elegant demonstrations such as the Multicultural Storyfest, or presenting a technical paper on their findings, the event is a celebration of learning and discovery.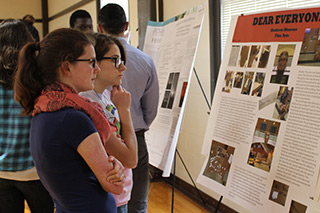 Not only do students get showcase their excellence in their own disciplines, but it also allows them to venture out and see what other departments have to offer, and what their fellow classmates have been working on during the year. The event is one of Juniata's most cherished academic traditions.