The Theatre POE
Juniata's Theatre POE, offers a holistic preparation for theatre artists in the larger context of Juniata's liberal arts environment. Students will experience broad based immersion in technical theatre skills, movement training, theatre history, studio acting courses and productions that focus on classical, modern and contemporary plays. Unlike most university theatre departments with a large number of professors, our program has a small, permanent faculty of two, which is supplemented and enhanced by training through guest directors and other outside professionals, who are dedicated to in-depth training for our students in various skills over the course of four years. Stability and diversity characterize our program. Theatre students at Juniata graduate empowered with the knowledge, skills and connections to work in theatre and the performing arts as a professional in the industry. Our program offers opportunities for careers in theatre but also embraces a life long love of Theatre and its integration into a well-lived life.
2016-2017 Season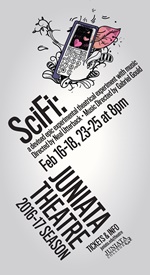 SciFi:
An Epic Devised Theatrical Experiment with Music
Directed by Neal Utterback
When: February 16-18, 23-25 @ 8:00 pm
Where: Suzanne von Liebig Theatre




Senior Capstones
Juniata Theatre presents two evenings of work written and performed by Theatre POE students,Julia Laplante and Patrick Rutledge and mentored by Leigh Hendrix of NYC's The Syndicate.
When: April 12, 13 @ 8:00 pm
Where: Suzanne von Liebig Theatre